We have always loved Neil Patrick Harris precisely after his fun and entertaining roles from one of Hollywood's prominent series, 'How I Met Your Mother.'
Patrick's lady-killing styles and sense of perception makes you fall in love with him. The 45-year-old actor is known for his prominent series 'How I Met Your Mother,' the 'lady killer' as we have witnessed him.
In fact, Neil is just the opposite as we have been seeing him for a long time. The 'Barney Stinson' that we perceived, the guy who can impress any girls he desires from his captivating words and styles, is, in fact, is a homosexual.
Learn about Neil's Husband and their love relationship in the article.
Who Is Neil Patrick Harris' Husband?
Neil Patrick is happily married to American actor David Michael Burtka. The duo began dating back in 2004.
Born in 1975, David is an American actor as well as a professional chef. He rose to the spotlight after starring in television shows like How I Met Your Mother and The Play About the Baby.
Well going back to Neil's and his longtime partner David, the duo initially met each other 15-years-ago.
Baxter Neal Helson Ex Wife, Divorce, Girlfriend, Net Worth, Age, Bio >>>
During the early days of their dating, they started dating watching a movie.
Learn The Details Of Their Relationship!
The duo initially met each other walking in New York while David was out to date another guy. Though things were not going well, they somehow managed to be with each other, and it is the most lovely thing we have seen.
They even shared that during their early phase of a relationship, they never thought that they would be dating each other, however, as time passed by, the two gradually became closer.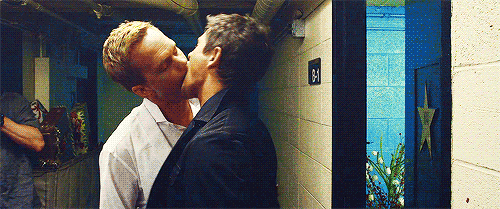 Neil Patrick Harris and partner David Burkta features together for a scene in Harold and Kumar.
SOURCE: Giphy
After a year of and got married in September 2014, three years after announcing their engagement.
Ariana Grande Makes Her Keeping Up With The Kardashians Debut! >>>
Neil Patrick Harris and David Michael Burtka Children
The pair later welcomes their fraternal twins through a surrogate in 2010 after sharing a blissful 10-years relationship.
The handsome boy is named Gideon Scott, and a charming girl named Harper Grace. Neil confronted that he was gay back on November 4, 2006.
Harris initially appeared with his fiance David Burkta back on confronted about their relationship during Emmy Awards back on September 2007 with his fiancé David Burtka.
Finally! Prince Harry and Duchess Meghan Markle Welcome Their First Baby | Know about their relationship History >>>
Well, Marriage isn't as easy as it sounds, especially if you belong to the LGBTQ community. However, Neil Patrick and David's relationship has definitely been proven as an example to many people with sex showing their immense love and openness.